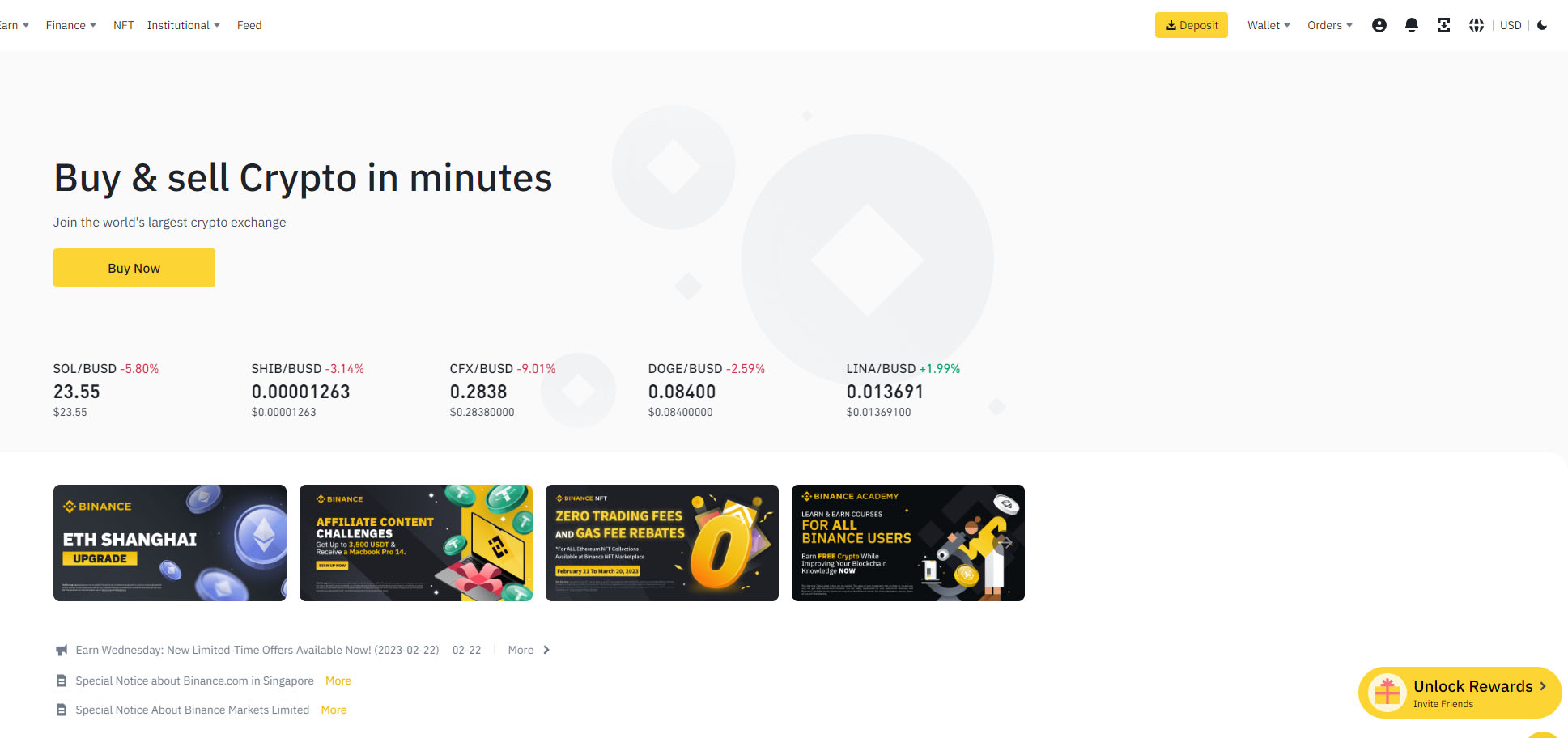 Binance is the biggest platform for cryptocurrency exchange in the world in terms of daily trading volume. It offers users the possibility to take part in a risk-free trading environment.
Along with a variety of deals, Binance also provides opportunities for passive income. You don't need to trade or deposit money to earn. By joining their promos, doing tasks, playing games, you can get tokens, coins, and vouchers you can use to grow your portfolio. Here are some of those.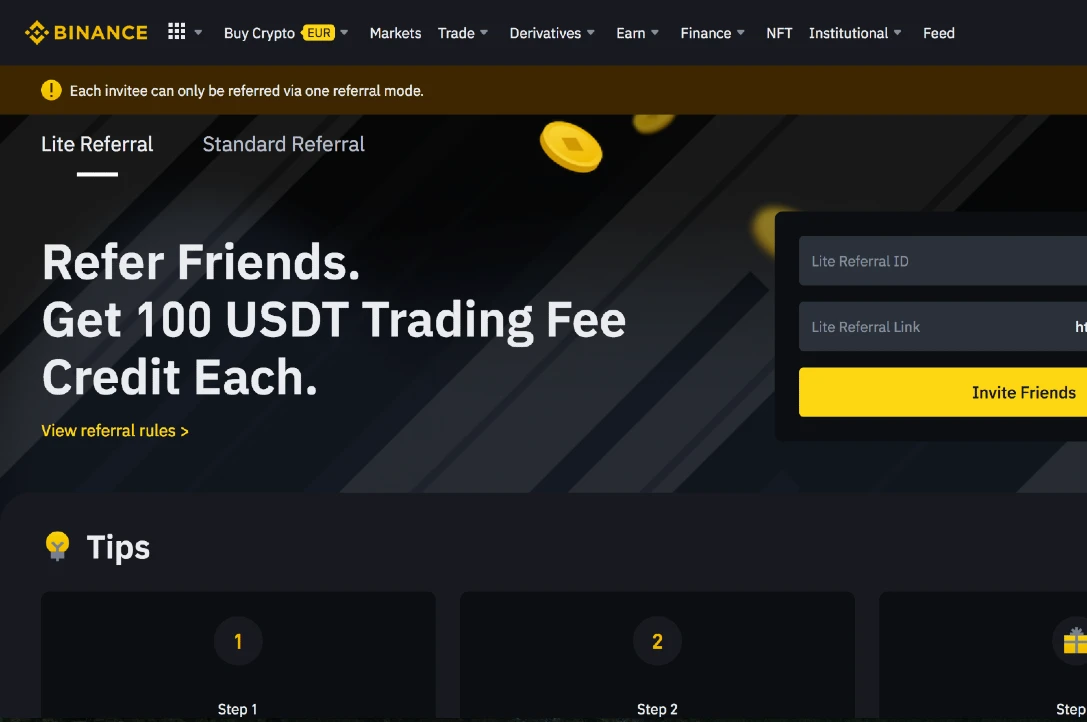 Watch Binance Live Streams
There are a handful of streamers on Binance whose channels range from Crypto-knowledge to game streams, from trading strategies to just chatting with others, and of most have generous guests who gives away Crypto boxes. Simply watch out for the pop-up boxes and click on them – if you are fast enough, the box will open and its contents will go directly to your funding wallet.
Watch live stream @DigitalGirlMIA on binance live to get free Crypto boxes:  https://www.binance.com/en/live/video?roomId=2133409&utm_campaign=binance_live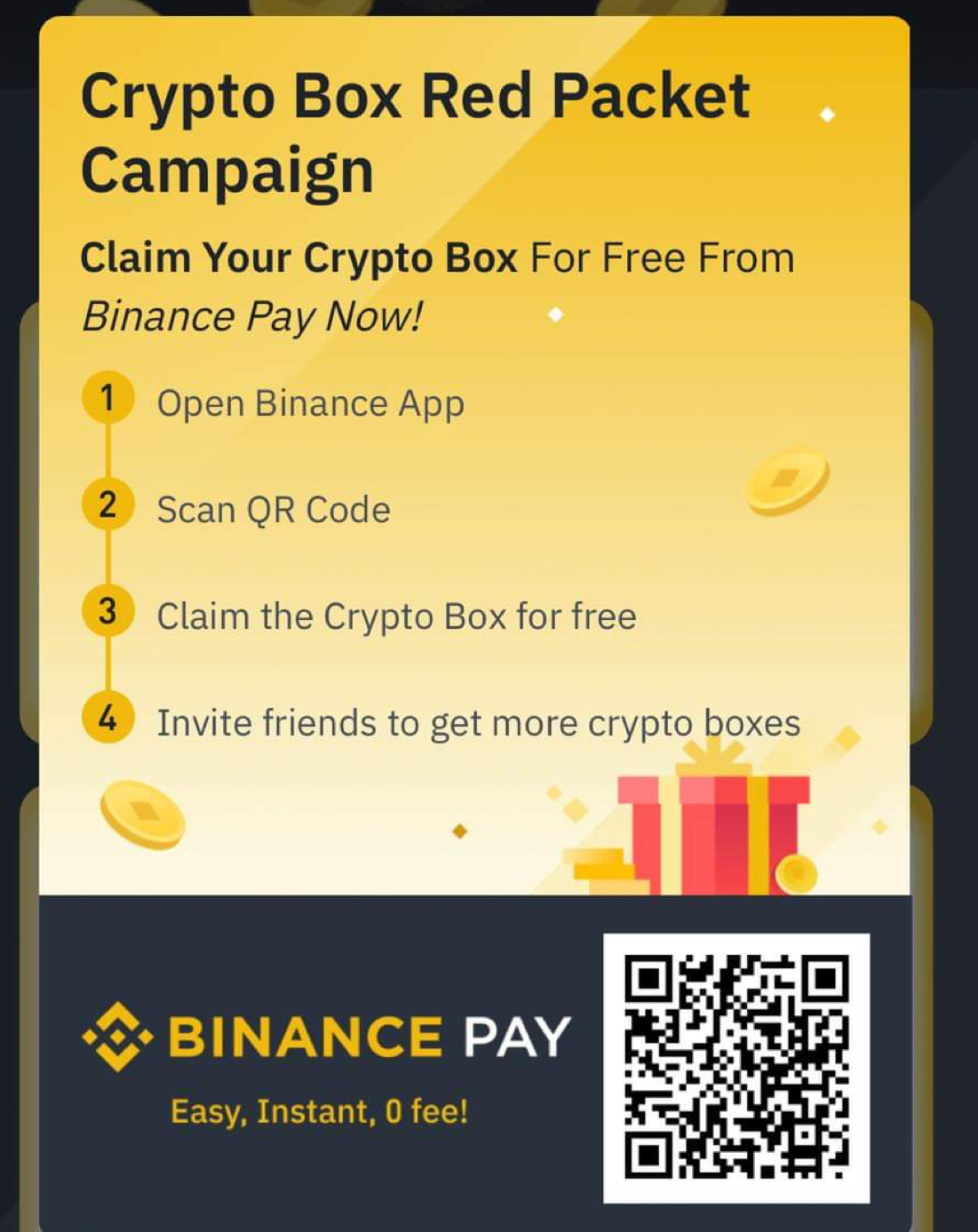 Claim and Send Crypto Box Gifts
*Recurring promo
Once in a while, Binance gives out Crypto box gifts for a whole month! You need to enter a box code to claim the contents of crypto box. Simply go to your Wallets – Funding – Pay – Crypto Box, input the code then click 'claim now'. Go back to the Pay page and click the banner under 'Latest Offers' to claim your gift. This round, the contents go directly to your funding wallet. You can get box codes from Live Streams and Telegram groups shared by hosts and guests.
You can also give away gift boxes and get 0.05USDT for every 25 people who claim your boxes, you can set the amount you want to give away and then share links to friends.
Join our Telegram group (new) – we will share box codes here.
Referral/Affiliate
By definition, affiliate means businesses pay a commission on conversions when using the performance-based advertising strategy known as affiliate marketing. An affiliate essentially makes money by advertising and selling other people's goods, but without having to keep any inventory, handle order fulfillment, or deal with customer care. To be able to calculate commissions, affiliate links are used to track sales.
In this case, when you refer other users to register and trade on Binance, you get rewards like cashback vouchers, tokens, or coins.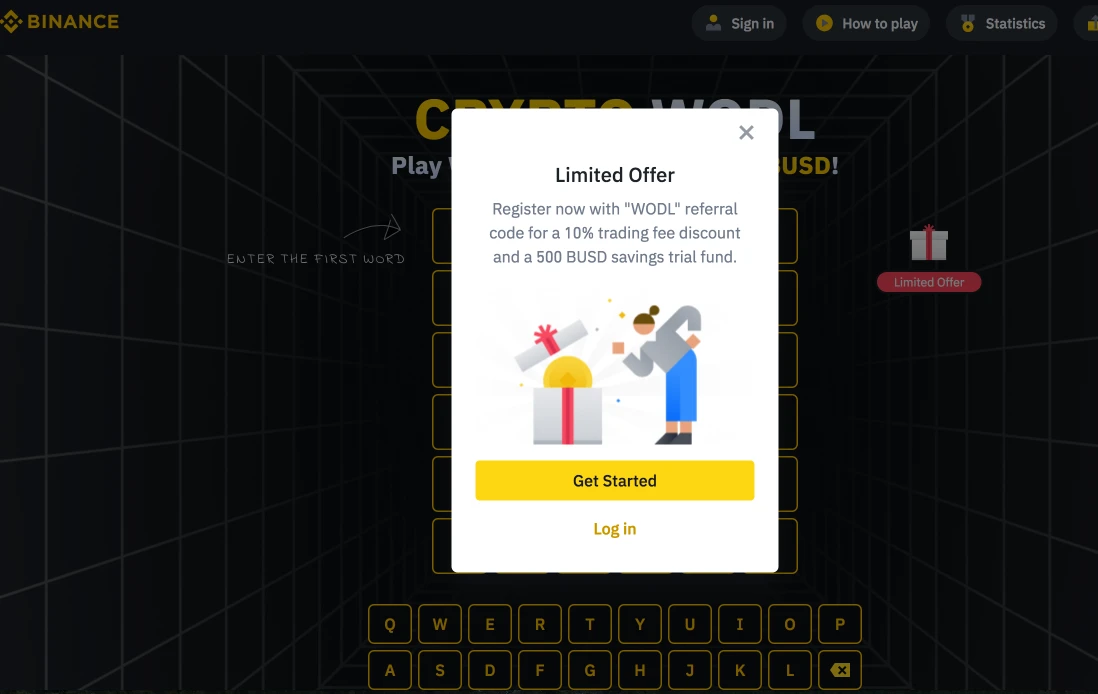 Get 100 USDT Cashback When You Sign Up on Binance
As you sign up on Binance, you also get free tokens, cash vouchers, rebate vouchers depending on the activity you signed up for. There's currently rewards offered signing up on standard Binance, signing up on Binance Lite, and signing up through WODL.
After signing up, a user needs to verify his account and complete KYC (Know Your Customer), a procedure used by banks and other financial institutions to collect contact and identification information from current and prospective customers. Its goal is to stop financial account abuse as well as fraud, money laundering, and other illegal conduct.
Cashbacks can be used once you deposit money to trade – which is not a scope of this list. Well, if you want to try it, you can deposit 100$ and get it back using your cashback voucher.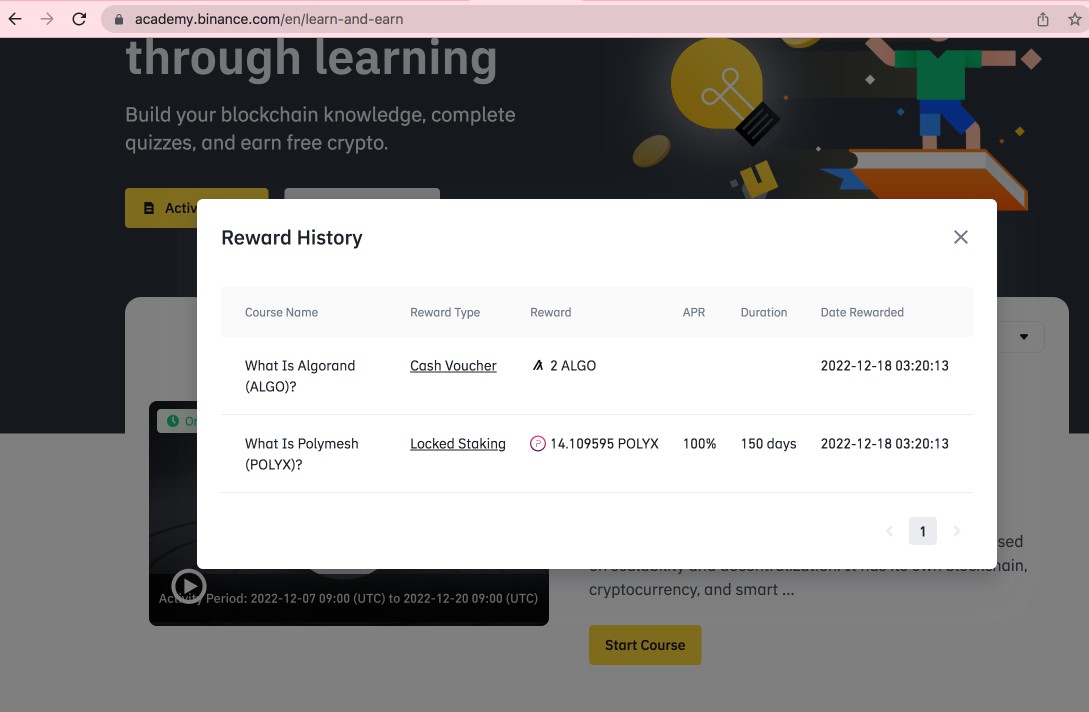 Earn Free Crypto Through Learning
Build your blockchain knowledge by finishing courses on Binance Academy. Answer quizzes to earn rewards in the form of cash voucher and others.
This is a great way to learn about the world of cryptocurrency and widen your crypto-vocabulary. There's a series of courses that describe tokens, processes, and everything related to cryptocurrency. At the end of the course would be multiple choice questions regarding what you've learned. You will then receive rewards corresponding your correct answers.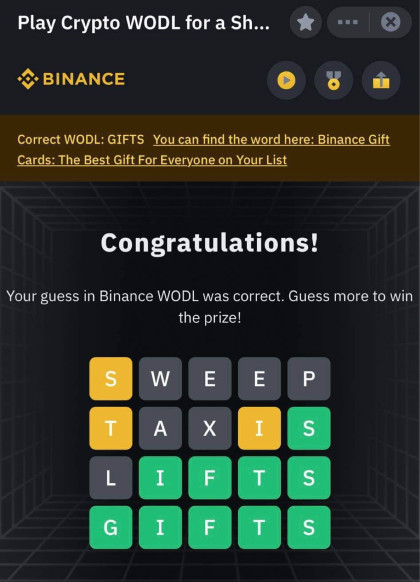 Get Rewards by Playing WODL (campaign finished)

WODL is a word-guessing game on Binance. Words can range from 3 to 8 letters, and you are given hints – when you guess a letter correctly, it will light up in yellow, if it's placed in the right box, it will be green, wrong letters are grayed out. Topic changes every cycle, so watch out for the announcement on the activity page. You get a share of the reward when the cycle ends.
Click here to play WODL, test your crypto vocab and learn as you go. Here are some WODL words from the past days.
Get Rewards by Finishing Tasks
After signing up and verifying your account, you can go to your dashboard and find the services tab. There will be a number of things you can see on this page like "Buy Crypto", Deposit Fiat, Withdraw Fiat and other crypto-related services.
You will also find a Gift & Campaign Category. Under this category you will find both Task Center and Rewards Center. As the names suggest, task center lists down tasks for you to do and where you earn either cashback vouchers, cash vouchers, and occasionally, trial funds.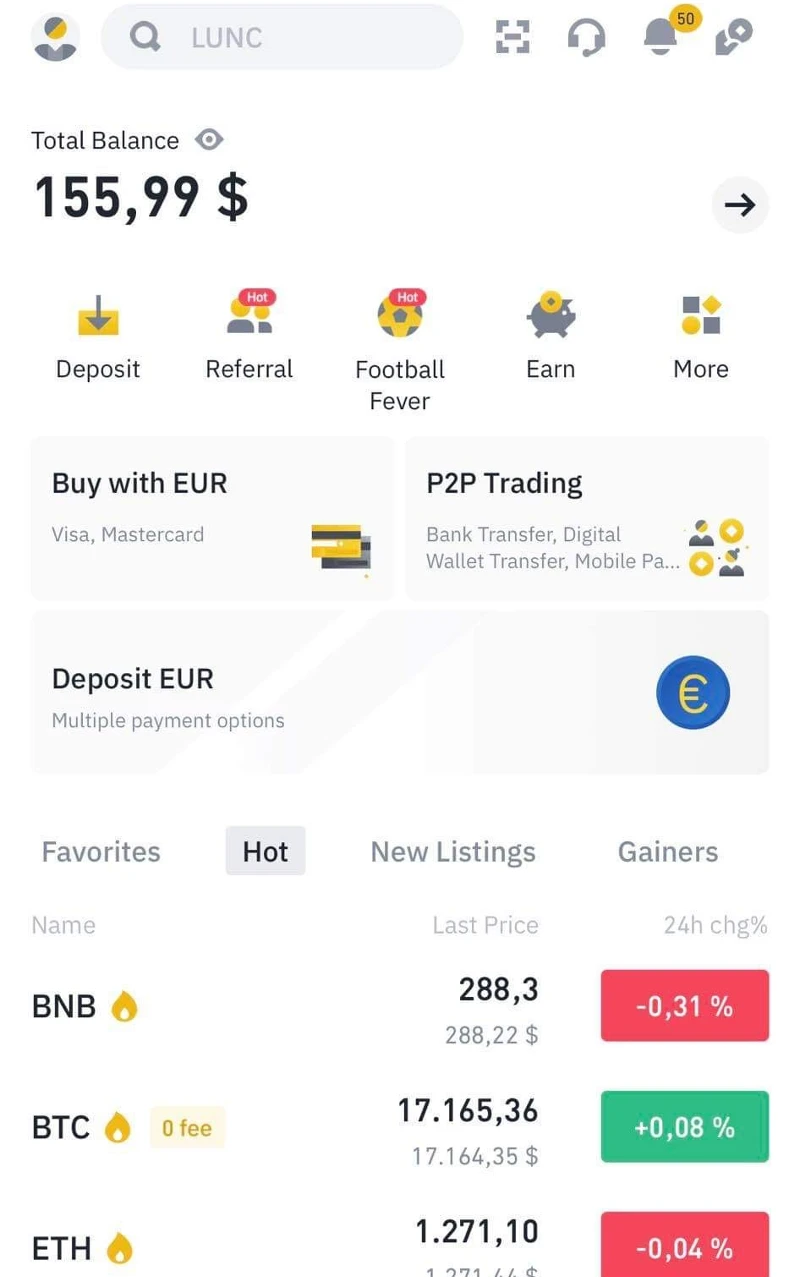 Check What's New on Launchpad
Binance Launchpad is a platform (the world's first Initial Exchange Offerings (IEOs) that gives customers early access to a variety of projects or new crypto assets. Additionally, it promotes acceptance and awareness of these new projects/programs.
Binance extensively researches any proposed cryptocurrency project before approving it. Binance needs to confirm that the project has matured to the proper degree, provides a scalable infrastructure, and actually benefits the blockchain and cryptocurrency community as a whole.
Since its launch in 2019, Binance Launchpad has raised money for over 60 projects.
Crypto Airdrop – You can gain rewards (in the form of tokens) by raising money for innovative projects that Binance has personally selected and reviewed through Launchpad.
View the latest projects on Binance here.
Create NFTs
A non-fungible token (NFT) is an unchangeable digital identity that is stored in a blockchain and used to verify ownership and authenticity. It cannot be duplicated, replaced, or divided. Simply put, NFTs are cryptocurrency assets that give collectors' and gamers' rights to their digital goods. However, it is not a given that the owner of the digital asset the NFT claims to represent has intellectual property rights to it. Anyone can make NFTs, and they don't necessarily need to know how to code.
NFTs frequently make mention of digital items like images, audio, and video. NFTs vary from cryptocurrencies in that they are fungible, while cryptocurrencies are individually identifiable assets.
NFT commonly associated files include Digital Art, Games, Music, Film, Memes.
Binance allows users to create NFTs, provided that a user at least have 2 followers on their Binance NFT profile page. You can follow me here, and I'll follow back, of course.